Free Shipping Worldwide for orders of $350 or more.
Shipment is approximately 10 days delivery to your door.
These cutters have blades hardened to a Rockwell C rating of 57, the result is the hardest, sharpest blade you can buy. The body retains the classic XIKAR shape and features a lightweight nylon fiberglass composite in an assortment of metallic colors and now, carbon fiber look and mesh patterns on black.
Xi cutter blades are made of high quality 440 stainless steel with an HRC of 57.
All Xi cutters are the same ring gauge: they will cut a 54 ring gauge cigar in half. Depending on how much cap you cut, they will cut up to a 58 ring gauge cigar.
Dimensions: 78mm x 45mm x 9mm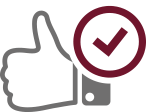 Satisfaction
Guarantee
We offer a 100% satisfaction guarantee on all our cigars or your
money back. Our guarantee applies to quality and condition of our
products.

Authentic Cuban Cigars
Guarantee
We also guarantee that all our cigars are 100% genuine Cuban
cigars.

Worldwide Shipping
Guarantee
We guarantee delivery to your door anywhere in the world. If you
do not receive your shipment, we will either replace it or refund
your money. We also guarantee receipt of your cigars and other
products in perfect condition.